Just Watch The Ball
by Steve Ridgell on Apr.28, 2009, under Hope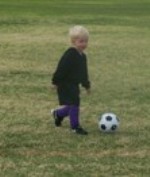 I love sports. I enjoy playing them and watching them. I especially enjoy watching three and four year olds play ball. I remember teaching my children to play ball when they were young, and now I am watching my grandchildren start to play ball. After watching preschool teams for thirty years, I am convinced nothing is as cute, or as frustrating, as teaching them how to play soccer or baseball.
An airplane passing overhead can bring the whole game to a stop. Flowers are somehow much more interesting than what is going on in the game. Friends must be waved at, parents must be located, and outfits adjusted. Sometimes I wonder if they even realize there is such a thing as a ball … much less what its function might be. I have watched soccer players run up and down the field for an entire game without once knowing where the ball was. If the other kids ran, so did they. I cannot count the times a slowly hit ball has rolled past three fielders and not a one of them even noticed. I have witnessed powerful swings of the bat that did not come within two feet of the ball — and the ball was sitting on a tee. Of course, the batter had his eyes tightly shut.
So here is my coaching advice for preschool soccer and baseball: just focus on one thing. Do not try to explain strategy, or even all the rules. Just teach them to watch the ball. They will learn the rest later. If they do not get this basic principle down, they will never learn to play well. It works in soccer. If they learn to watch the ball, they will kick it more often. It works in baseball also. Watch the ball and you will hit it. Watch the ball and you will catch it. It is the basic principle in sports. Just watch the ball. Interestingly enough, that basic principle never changes in sports no matter how old you get.
The same principle works for learning about Jesus. If you do not know much about Jesus and his followers, it sure looks confusing. What is all the activity about, what are all the rules, and is there a strategy I need to know? Let me encourage you to focus on the one thing that really matters: Jesus. He died for the things we have done that were wrong, he was buried, and God raised him from the dead. Focus on that and the rest will begin to make sense. And if you miss that, nothing else will ever make sense.
That is still good advice for those of us who have been following Jesus for a long time. Focus on the one important thing. Jesus.
Steve Ridgell
1 comment for this entry: